Dangerous Ishq – Only post about Shayari and Adims, and the majority of Adims are not permitted to post song lyrics in the Shayari group.
Ek Din Hum Bhi Kafan Odh Jayenge,
Sab Rishte Iss Jameen Se Tod Jayenge,
Jitna Jee Chaahe Sataa Lo Mujhko,
Ek Din Rota Huya Sabko Chhod Jayenge.
एक दिन हम भी कफ़न ओढ़ जायेंगे,
सब रिश्ते इस जमीन के तोड़ जायेंगे,
जितना जी चाहे सता लो मुझको,
एक दिन रोता हुआ सबको छोड़ जायेंगे।
Tamam Umar Jo Ki Humse Be-Rukhi Sab Ne,
Kafan Mein Hum Bhi Ajeezon Se Munh Chhupa Ke Chale.
तमाम उम्र जो हमसे बेरुखी की सबने,
कफ़न में हम भी अजीज़ों से मुँह छुपा के चले।
---
Samajh
Samajh – You may post these Hindi Attitude Shayari status updates on Facebook and WhatsApp.
Hum dil-o-dimag me duniya ko nahi,
Bhgwan aur sapno ko rkhte hai.
हम दिलो दिमाग मे दुनिया को नही,
भगवान और सपनों को रखते है।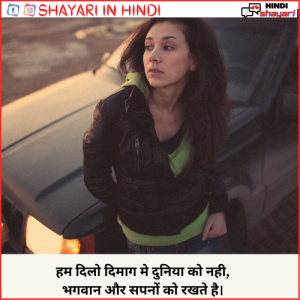 Chahe meri saanse lelo,
Magar mera phone lene ki zurrat mat karna.
चाहे मेरी सांसे लेलो,
मगर मेरा फोन लेने की जुर्रत मत करना।
---
Ek Hi Raasta
Ek Hi Raasta – This is a well picked selection of Hindi Raasta shayari. On this page, you may download HD versions of every Raasta shayari.
Ud Jayenge Tasviron Se Rangon Ki Tarah Hum,
Waqt Ki Taheni Par Hain Parindo Ki Tarah Hum.
उड़ जायेंगे तस्वीरों से रंगों की तरह हम,
वक़्त की टहनी पर हैं परिंदों की तरह हम।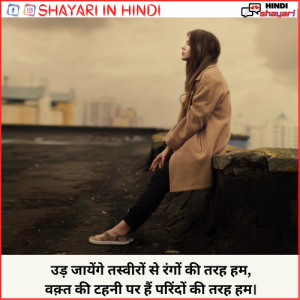 Suljha Hua Sa Samjhate Hain Mujhko Log,
Uljha Hua Sa Mujh Mein Koi Doosra Bhi Hai.
सुलझा हुआ सा समझते हैं मुझको लोग,
उलझा हुआ सा मुझमें कोई दूसरा भी है।