New Sad Shayari – Here you may get all the most popular sad shero-shayari, including shayari for females, sad poetry in urdu, and the greatest sad message for 2023.
Koi Aadat, Koi Baat, Ya Sirf Meri Khamoshi,
Kabhi To, Kuchh To Usey Bhi Yaad Aata Hoga.
कोई आदत, कोई बात, या सिर्फ मेरी खामोशी,
कभी तो, कुछ तो, उसे भी याद आता होगा।
Humne Tere Baad Na Rakhi Kisi Se Mohabbat Ki Aas,
Ek Shakhs Hi Bahut Tha Jo Sab Kuchh Sikha Gaya.
हमने तेरे बाद न रखी किसी से मोहब्बत की आस,
एक शख्स ही बहुत था जो सब कुछ सिखा गया।
---
Gham Hai Ya Khushi Hai Tu
Gham Hai Ya Khushi Hai Tu – Hey, welcome to Shayari1, where you may get the greatest English-language Dard bhari shayari.
Tere Dil Ke Kareeb Aana Chahta Hoon Main,
Tujhko Nahi Aur Ab Khona Chahta Hoon Main,
Akele Iss Tanhayi Ka Dard Bardast Nahi Hota,
Tu Ek Bar Aaja Tujhse Lipat Kar Rona Chahta Hoon Main.
तेरे दिल के करीब आना चाहता हूँ मैं,
तुझको नहीं और अब खोना चाहता हूँ मैं,
अकेले इस तनहाई का दर्द बर्दाश्त नहीं होता,
तू एक बार आजा तुझसे लिपट कर रोना चाहता हूँ मैं।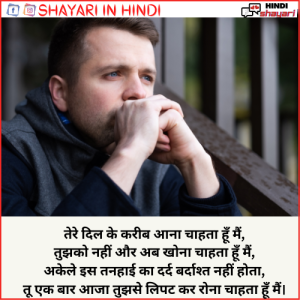 Aansu Girne Ki Aahat Nahin Hoti,
Dil Ke Tootne Ki Aawaj Nahin Hoti,
Gar Hota Unhen Ehsaas Dard Ka,
To Dard Dene Ki Unhen Adat Na Hoti.
आँसू गिरने की आहट नही होती,
दिल के टूटने की आवाज नहीं होती,
गर होता उन्हें एहसास दर्द का,
तो दर्द देने की उन्हें आदत न होती।
---
Dekh Liya
Dekh Liya – Excellent selection of Sad Shayari and Dard Bhari Shayari for both boys and girls.
Bahut Dard Hai Ai Jaan-e-Adaa Teri Mohabbat Mein,
Kaise Keh Doon Ki Tujhe Wafa Nibhani Nahi Aati.
बहुत दर्द हैं ऐ जान-ए-अदा तेरी मोहब्बत में,
कैसे कह दूँ कि तुझे वफ़ा निभानी नहीं आती।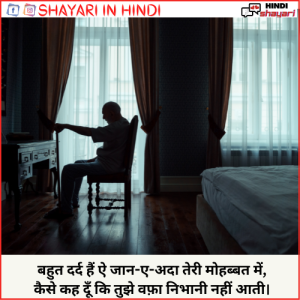 Kitna Lutf Le Rahein Hain Log Mere Dard-o-Gham Ka,
Ai Ishq Dekh Tu Ne To Mera Tamaasha Hi Bana Diya.
कितना लुत्फ ले रहे हैं लोग मेरे दर्द-ओ-ग़म का,
ऐ इश्क़ देख तूने तो मेरा तमाशा ही बना दिया।