Insaniyat Shayari – Har Dil Me Ek Chor Kyun Hai, Har Haath Mein Khanjar? Magar Aaine Mein Koi Aur Kyun Hai, Aaine Ke Samne Main Hun?
Pahle Jamin Banti Phir Ghar Bhi Bant Gaya,
Insaan Apne Aap Mein Kitna Simat Gaya.
पहले ज़मीं बँटी फिर घर भी बँट गया,
इंसान अपने आप में कितना सिमट गया।
Hukoomat Baajuon Ke Zor Par Toh Koyi Bhi Kar Le,
Jo Sabke Dil Pe Chha Jaaye Use Insaan Kahte Hain.
हुकूमत बाजुओं के ज़ोर पर तो कोई भी कर ले,
जो सबके दिल पे छा जाए उसे इंसान कहते हैं।
---
2 Line Sad Poetry
2 Line Sad Poetry – Check out the most recent collection of Hindi 2 Line Shayari, SMS, and Status.
Wo Ek Raat Jala To Use Chiragh Keh Diya,
Hum Barson Se Jal Rahe Hain Koi To Khitaab Do.
वो एक रात जला तो उसे चिराग कह दिया,
हम बरसों से जल रहे हैं कोई तो खिताब दो।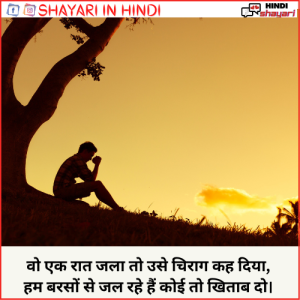 Ye Zalzale Yoon Hi Besabab To Nahi Aate,
Zaroor Zameen Ke Neeche Koi Deewana Tadapta Hoga.
ये ज़लज़ले यूं ही बेसबब तो नहीं आते,
ज़रूर ज़मीन के नीचे कोई दीवाना तड़पता होगा।
---
Inspirational Poetry In Hindi
Inspirational Poetry In Hindi – Motivation is a must for living a successful life. You may motivate and inspire anyone to advance in life by writing inspirational poems.
Hausle Bhi Kisi Hakeem Se Kam Nahi Hote,
Har Takleef Mein Takat Ki Davaa Dete Hain.
हौसले भी किसी हकीम से कम नहीं होते,
हर तकलीफ़ में ताकत की दवा देते हैं।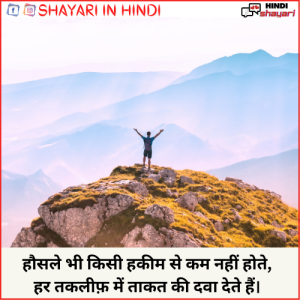 Ek Sooraj Tha Ki Taaro Ke Gharane Se Uthha,
Aankh Hairan Hai Kya Shakhs Zamane Se Uthha.
एक सूरज था कि तारों के घराने से उठा,
आँख हैरान है क्या शख़्स ज़माने से उठा।