Koi Fariyaad Shayari – mazil bhi mil jaati hai, khwab sach ho toh! Tasvir mein dhal jaati hai, Yaad bhi aksar! Sacche dil se maango, kuch maango agar toh!
Fariyad Kar Rahi Hai Ye Tarsi Huyi Nigaah,
Dekhe Huye Kisi Ko Zamana Gujar Gaya.
फरियाद कर रही है यह तरसी हुई निगाह,
देखे हुए किसी को ज़माना गुजर गया।
Ye Keh-Keh Ke Hum Dil Ko Samjha Rahe Hain,
Wo Ab Chal Chuke Hai Wo Ab Aa Rahe Hain.
ये कह-कह के हम दिल को समझा रहे हैं,
वो अब चल चुके हैं वो अब आ रहे हैं।
---
Life Two Line Hindi Shayari
Life Two Line Hindi Shayari – Check out the most recent collection of Hindi 2 Line Shayari, SMS, and Status. These Heartwarming two-line poems
dhabbe to lagte hi rhte h,
bus mann ki safai kaa kam
jari rhna chahiye
धब्बे तो लगते ही रहते है ,
बस मन की सफाई का काम
जारी रहना चाहिए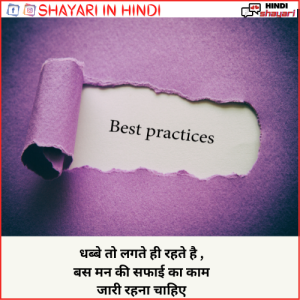 zindgi bus chlne kaa nam h,
rukna to bus ab maut par hi hoga
ज़िंदगी बस चलने का नाम है ,
रुकना तो बस अब मौत पर ही होगा
---
Jana Na Dil Se Door
Jana Na Dil Se Door – Lovers have always enjoyed Loving Shayari. Everyone enjoys reading love poetry, even in the social media era.
Thoda thoda karke
bahut jyada pyar ho
gaya tumse.
थोड़ा-थोड़ा करके बहुत
ज्यादा प्यार हो गया तुमसे।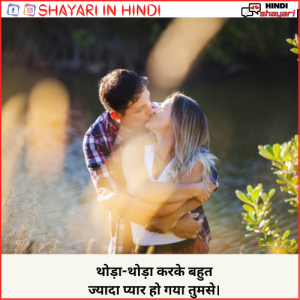 dhadkan bad hi jati ha
meri jab tum karib ate ho
धड़कन बढ़ ही जाती हैं मेरी
जब तुम करीब आते हो।