Life Shayari image – Life Shayari is about both positive and negative experiences. You may get here the most recent Hindi proverbs and sad zindagi proverbs.
Jeene Ka Hausla Kabhi Marne Ki Aarzoo,
Din Yoon Hi Dhoop-Chhaaon Mein Apne Bhi Kat Gaye.
जीने का हौसला कभी मरने की आरज़ू,
दिन यूँ ही धूप-छाँव में अपने भी कट गए।
Ajeeb Tarah Se Gujar Gayi Meri Bhi Zindagi,
Socha Kuchh, Kia Kuchh, Hua Kuchh, Mila Kuchh.
अजीब तरह से गुजर गयी मेरी भी ज़िन्दगी,
सोचा कुछ, किया कुछ, हुआ कुछ, मिला कुछ।
---
Attitude Shayari English Mein
Attitude Shayari English Mein – Are you searching the internet for the Best Attitude Shayari? Here is a fantastic selection of Hindi Shayari and Images with Attitude for Boys and Girls.
Humari Haisiyat Ka Andaza Tum Ye Jaan Ke Laga Lo,
Hum Kabhi Unke Nahi Hote Jo Har Kisi Ke Ho Gaye.
हमारी हैसियत का अंदाज़ा तुम ये जान के लगा लो,
हम कभी उनके नहीं होते जो हर किसी के हो गए।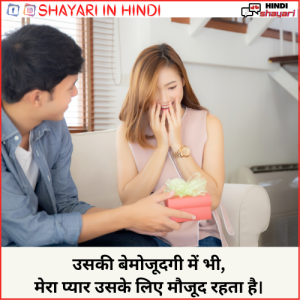 Mahboob Ka Ghar Ho Ya Farishton Ki Ho Zamin,
Jo Chhod Diya Fir Usey Mudkar Nahi Dekha.
महबूब का घर हो या फरिश्तों की हो ज़मीं,
जो छोड़ दिया फिर उसे मुड़ कर नहीं देखा।
---
Love Quotes In Hindi For Girlfriend
Love Quotes In Hindi For Girlfriend – Hello, guys I'm here with the newest batch of girlfriend shayari. I sincerely hope you enjoy this entry from the Girlfriend Shayari Collection.
Uski bemoujudgi me bhi,
Mera pyar uske liye mojud rhta hai.
उसकी बेमोजूदगी में भी,
मेरा प्यार उसके लिए मौजूद रहता है।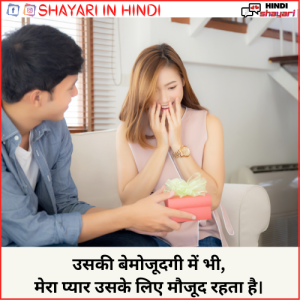 Mukammal ishq tab hota hai,
Jab ishq ki baho me khud ishq hota hai.
मुकम्मल इश्क़ तब होता है,
जब इश्क़ की बाहों में ख़ुद इश्क़ होता है…