Friendship Quotes In Hindi – True friendship is defined by sentiments of care, respect, admiration, concern, love, or similarity. It is not simply a connection of mutual affection between individuals.
Waqt Ki Yaari Toh Har Koi Kar Leta Hai Dost,
Mazaa Toh Tab Hai Jab Waqt Badle Par Yaar Na Badle.
वक्त की यारी तो हर कोई करता है मेरे दोस्त,
मजा तो तब है जब वक्त बदले पर यार ना बदले।
Dekhi Jo Nabj Meri Toh Hans Kar Bola Hakeem,
Tere Marz Ka Ilaaj Mehfil Hai Tere Doston Ki.
देखी जो नब्ज मेरी तो हँस कर बोला हकीम,
तेरे मर्ज़ का इलाज महफ़िल है तेरे दोस्तों की।
---
2 Line Love Poetry In Hindi
2 Line Love Poetry In Hindi – Check out the most recent collection of Hindi 2 Line Shayari, SMS, and Status. These Heart Touching Two Line Shayari ( ) express numerous feelings in the heart in a little number of syllables.
Hona To Wohi Hai Jo Muqaddar Mein Likha Hai,
Lekin Wo Mere Khwaab, Mere Khwaab, Mere Khwaab.
होना तो वही है जो मुकद्दर में लिखा है,
लेकिन वो मेरे ख्वाब, मेरे ख्वाब, मेरे ख्वाब।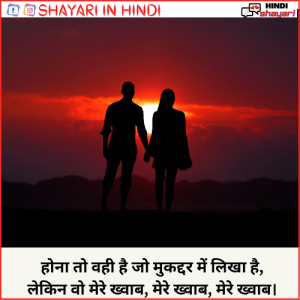 Na Jaane Kaun Se Jhonke Mein Meri Khushboo Ho,
Tum Apne Ghar Ka Dareecha Sada Khula Rakhna.
न जाने कौन से झोंके में मेरी खुशबू हो,
तुम अपने घर का दरीचा सदा खुला रखना।
---
Motivational In Hindi
Motivational In Hindi – Motivation is a must for living a successful life. You may motivate and inspire anyone to advance in life by writing inspirational poems.
Ye Zindagi Hasin Hai Iss Se Pyar Karo,
Abhi Hai Raat To Subah Ka Intezar Karo,
Wo Pal Bhi Ayega Jiski Khwahish Hai Aapko,
Rab Par Rakho Bharosa Waqt Par Aitbar Karo.
ये ज़िन्दगी हसीं है इस से प्यार करो,
अभी है रात तो सुबह का इंतज़ार करो,
वो पल भी आएगा जिसकी ख्वाहिश है आपको,
रब पर रखो भरोसा वक़्त पर एतबार करो।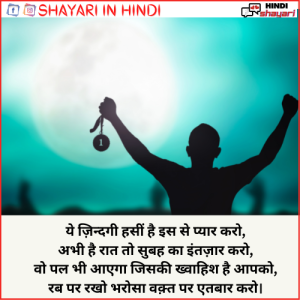 Deeya Bujhaane Ki Fitrat Badal Bhi Sakti Hai,
Koi Chirag Hawa Pe Dawaab To Daale.
दीया बुझाने की फितरत बदल भी सकती है,
कोई चिराग हवा पे दवाब तो डाले।