New Shayari Image – The finest collection of humorous Hindi shayari from 2023 been assembled by us. Discover the funniest Shayari text, images, and Majedaar Shayari.
Mayyat Pe Aaye Hain Kuchh Iss Adaa Se Woh,
Sab Unn Pe Mar Mite Hain Mujhe Tanha Chhod Ke.
मय्यत पे मेरी आए हैं कुछ इस अदा से वो,
सब उन पे मर मिटे हैं मुझे तन्हा छोड़ के।
Kaash Humara Bhi Koi Rashq-e-Qamar Hota,
Hum Bhi Najar Milate Humein Bhi Mazaa Aata.
काश हमारा भी कोई रश्के-क़मर होता,
हम भी नजर मिलाते हमें भी मज़ा आता।
---
Full Attitude Shayari
Full Attitude Shayari – Every few weeks, we update our Attitude Status & Shayari for Boys & Girls so that you can read the most recent updates.
Jubaan Par Mohar Lagana Koi Badi Baat Nahi,
Badal Sako To Badal Do Mere Khayalon Ko.
जुबां पर मोहर लगाना कोई बड़ी बात नहीं,
बदल सको तो बदल दो मेरे खयालों को।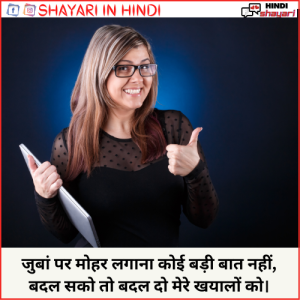 Kiski Mazaal Thi Jo Humko Khareed Sakta Tha,
Hum Khud Hi Bik Gaye Hain Khareedar Dekh Kar.
किसकी मजाल थी जो हमको खरीद सकता था,
हम तो खुद ही बिक गए हैं खरीदार देख कर।
---
Important Sad Shayari
Important Sad Shayari – Every soul carries regrets and complaints with them throughout their daily lives, and sad shayari is a representation of those feelings.
Ek Ye Khwahish Ki Koi Zakhm Na Dekhe Dil Ka,
Ek Ye Hasrat Ke Koi Dekhne Wala To Hota.
एक ये ख्वाहिश के कोई ज़ख्म न देखे दिल का,
एक ये हसरत कि कोई देखने वाला तो होता।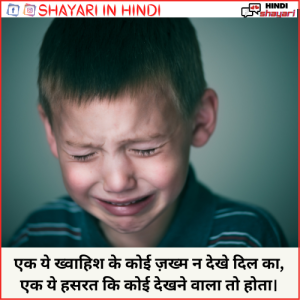 Ye Wafa Ki Sakht Raahein Ye Tumhare Paanvv Nazuk,
Na Lo Intekaam Mujhse Mere Saath-Saath Chal Ke.
ये वफ़ा की सख़्त राहें ये तुम्हारे पाँव नाज़ुक,
न लो इंतकाम मुझसे मेरे साथ-साथ चल के।