Jindgi Ki Shayari – Downloadable HD shayari images for Zindagi Shayari in Hindi and Urdu. With the help of these touching shayari on Zindagi, embrace the beauty of life.
Har khwab aur har khwahish
puri ni hoti har kisi ki zindagi
me aap zaruri nahi hote.
हर ख्वाब और हर ख्वाहिशें पूरी
नहीं होती, हर किसी के ज़िंदगी
में आप जरुरी नहीं होते.
ham sab ki jindagi ka bus ek
hi fasana hai mitti se Bane
ha aur mitti me hi mil jana h.
हम सबकी ज़िंदगी का बस एक ही
फसाना है,मिट्टी से बने है और मिट्टी
में ही मिल जाना है.
---
Shayari Chahie
Shayari Chahie – Featuring HD shayari photos available for download, Zindagi Shayari in Hindi and Urdu. These touching shayari on Zindagi will let you appreciate life's beauty.
is jindagi Ko jeene ki arju bin
Tere Hain adhuri Tera sath Jo
mil jaaye meri jindagi Ho jaye
Puri.
इस जिन्दगी को जीने की आरजू बिन
तेरे है अधूरी, तेरा साथ जो मिल जाए,
मेरी जिन्दगी हो जाए पूरी।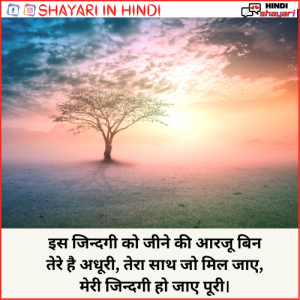 meri jindagi ki kitab mein
har adhyay tumhara hai
kahani to meri hai per
panne per Naam tumhara h.
मेरी जिंदगी की किताब में,हर अध्याय
तुम्हारा है,कहानी तो मेरी है,हर पन्ने
पे नाम तुम्हारा है.
---
Best Funny Shayari
Best Funny Shayari – We put together the best collection of humorous Hindi shayari for 2023. Find the funniest Majedaar Shayari, Shayari, images, and text.
Raat Ko Kitab Meri Mujhe Dekhti Rahi,
Neend Mujhe Apni Orr Kheenchti Rahi,
Neend Ka Jhonka Mera Mann Moh Gayaa,
Aur Fir Ek Genius Bina Padhe So Gaya.
रात को किताब मेरी मुझे देखती रही,
नींद मुझे अपनी ओर खींचती रही,
नींद का झोंका मेरा मन मोह गया,
और फिर एक जीनियस बिना पढ़े सो गया।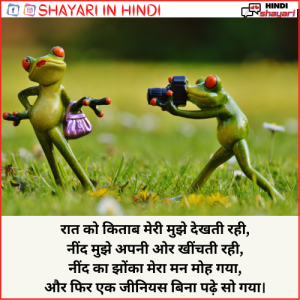 Rehta Hai Ibaadat Mein Humein Maut Ka Khatka,
Hum Yaad Khuda Karte Hain Kar Le Na Khuda Yaad.
रहता है इबादत में हमें मौत का खटका,
हम याद ख़ुदा करते हैं कर ले न ख़ुदा याद।