Papa Shayari In Hindi – Today, we're discussing a few unique father-related topics. Let us say that the father is such a friend in our lives or that he comes before the family and is the missing piece of the house.
Mujhe mohabbat hai apane haathon!!
Ki sab lakeeron se,na jaane!!
Paapa ne kaunasee ungali ko!!
Pakadakar chalana sikhaaya ‍‍tha!!
मुझे मोहब्बत है अपने हाथों!!
की सब लकीरों से,ना जाने!!
पापा ने कौनसी ऊँगली को!!
पकड़कर चलना सिखाया था!!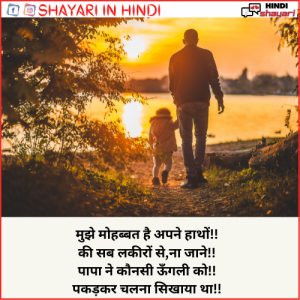 Nahin samajh pa raha hun kaise !!
Karu taariph aapaki !!
Vo laphj naheen hai mere paas jo !!
Ehamiyat bata sake ‍‍aapaki !!
नहीं समझ पा रहा हूँ कैसे !!
करू तारीफ आपकी !!
वो लफ्ज नहीं है मेरे पास जो !!
एहमिय बता सके आपकी !!
---
Shayari On Smile In English
Shayari On Smile In English – Hello friends, we are sending you a lovely and joyful Smile Status. You may read about this baby's laughter, adorable grin, and smile of affection.
Zindagi ek hasin khwab hai
isme jine ki chahat honi chahiye
gam khud-b-khud khushi mein
badal jayega sirf muskurane ki
adat honi chahiye.
जिंदगी एक हसीन ख्वाब हैं
इसमे जीने की चाहत होनी चाहिये
गम खुद-ब-खुद ख़ुशी में बदल जायेगा
सिर्फ मुस्कुराने की आदत होनी चाहिये.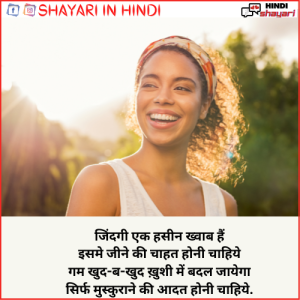 Mere Sanam Tumhe Kis Kis
Tarah Se Chhupaoon Main,
Meri Muskaan Mein Bhi Najar
Aane Lage Ho Ab To Tum.
मेरे सनम तुम्हे किस किस तरह 
से छुपाऊँ मैं, मेरी मुस्कान में भी 
नजर आने लगे हो अब तो तुम।
---
Success Shayari In Hindi
Success Shayari In Hindi – Top inspirational Success verses in Hindi with pictures Additionally, you may get the finest motivational shayari about success here, including the best success shayari, shayari for students, motivational quotes, etc.
Jisne kaha kal din gaye tal
Jisne kaha parso beet gaya barso
Jisne kaha aaj usine kiya raaz
जिसने कहा कल दिन गया टल
जिसने कहा परसो बीत गए बरसो
जिसने कहा आज उसने किया राज।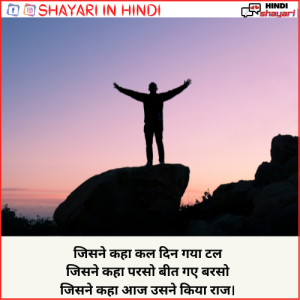 Jo lakshya mein kho gaya
samjho wahi safal ho gaya
जो लक्ष्य में खो गया समझो
वही सफल हो गया।