Sad Line Status – Hey people, are you looking for two-word poems to describe your emotions during happy and sad times?
Naa Jaane Kis Hunar Ko Shayari Kehte Ho Tum,
Hum To Woh Likhte Hain Jo Tumse Keh Nahi Paate.
न जाने किस हुनर को शायरी कहते हो तुम,
हम तो वो लिखते हैं जो तुमसे कह नहीं पाते।
Ye Zalzale Yoon Hi Besabab To Nahi Aate,
Zaroor Zameen Ke Neeche Koi Deewana Tadapta Hoga.
ये ज़लज़ले यूं ही बेसबब तो नहीं आते,
ज़रूर ज़मीन के नीचे कोई दीवाना तड़पता होगा।
---
Dosti Shayari 2 Line English
Dosti Shayari 2 Line English – Here, you may quickly read and copy the most recent collection of Hindi Two Lines Dosti Shayari.
dosti agar door bhi hoti h
to bhi ye kohinoor hoti h
दोस्ती अगर दूर भी होती है ,
तो भी ये कोहिनूर होती है।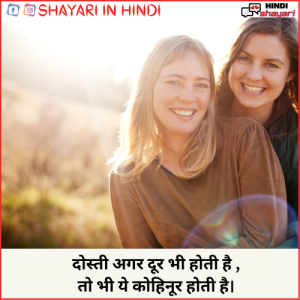 tere aate hi dost mehfil sajne lgti h
aur berang zindagi bhi rngne lgti h
तेरे आते ही दोस्त महफ़िल सजने लगती है ,
और बेरंग ज़िंदगी भी रंगने लगती है।
---
Romantic Lines In Hindi
Romantic Lines In Hindi – You can read and copy your favourite Two Lines Romantic Shayari from this collection of 101+ Two-Line Romantic Shayari.
Ye dil badi bebas cheez
ha dekhta sabko ha par
dhundta sirf tumko ha.
ये दिल बड़ी बेबस चीज़ है देखता
सबको है पर ढूंढ़ता सिर्फ तुमको है।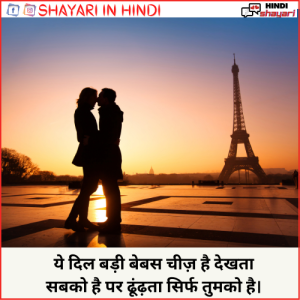 Wo mohabbat hi kya
jo dil ki batein lafzon
me bayan ki jaye.
वो मोहब्बत ही क्या जो दिल
की बातें लफ़्ज़ों में बयां की जाए.