Shayari In Hindi – You would like reading the heartfelt Hindi Shayari found here. For the benefit of those who enjoy shayari, we have included every Shero Shayari in both Hindi and English script.
Falsafa Samjho Na Asraar-e-Siyasat Samjho,
Zindagi Sirf Hakiqat Hai Hakiqat Samjho,
Jaane Kis Din Hon Hawayein Bhi Neelam Yahan,
Aaj To Saans Bhi Lete Ho Ghaneemat Samjho.
फलसफा समझो न असरारे सियासत समझो,
जिन्दगी सिर्फ हकीक़त है हकीक़त समझो,
जाने किस दिन हो हवायें भी नीलाम यहाँ,
आज तो साँस भी लेते हो ग़नीमत समझो।
Samjhne Hi Nahi Deti Siyasat Hum Ko Sachchai,
Kabhi Chehra Nahi Milta Kabhi Darpan Nahi Milta.
समझने ही नहीं देती सियासत हम को सच्चाई,
कभी चेहरा नहीं मिलता कभी दर्पन नहीं मिलता।
---
Heart Broken Shayri
Heart Broken Shayri – Shayari and Sms on Heart Break in Hindi, Dil Ke Tootne Par Hindi Shayari, New Broken Heart Shayari, and Broken Heart Shayari. The unforgettable Shayari of a Lover with a Broken Heart.
Kyun Na Saza Milti Humein Mohabbat Mein,
Aakhir Hum Ne Bhi To Bahut Dil Tode Teri Khatir.
क्यूँ न सज़ा मिलती हमें मोहब्बत में,
आखिर हम ने भी तो बहुत दिल तोड़े तेरी खातिर।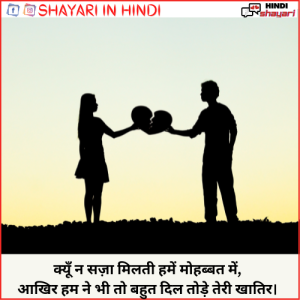 Dilon Ka Khel Jo Khelo To Yeh Bhool Mat Jana,
Ke Khel-Khel Mein Aksar Khilone Toot Jate Hain.
दिलों का खेल जो खेलो तो ये भूल मत जाना,
कि खेल-खेल में अक्सर खिलौने टूट जाते हैं।
---
Love Shayari
Love Shayari – Love is an expression of seasoned heartfelt emotions. Love Shayari () is a powerful tool for expressing romantic feelings.
Tum Hakiqat Ho Ya Fareb Meri Aankhon Ka,
Na Dil Se Nikalte Ho Na Zindagi Mein Aate Ho.
तुम हकीकत हो या फरेब मेरी आँखों का,
न दिल से निकलते हो न जिंदगी में आते हो।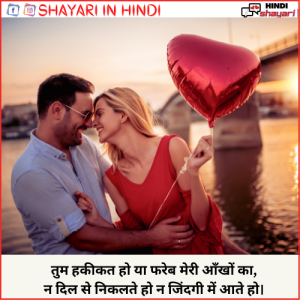 Nahi Pasand Mohabbat Mein Milawat Mujhko,
Agar Wo Mera Hai To Khwab Bhi Bas Mere Dekhe.
नहीं पसंद मोहब्बत में मिलावट मुझको,
अगर वो मेरा है तो ख्वाब भी बस मेरे देखे।