Sorry Shayari For Gf – When you feel bad for your lover, use the Sorry Shayari to persuade him.
Dekha Hai Aaj Mujhe Bhi Gusse Ki Najar Se,
Malum Nahi Aaj Woh Kis Kis Se Lade Hain.
देखा है आज मुझे भी गुस्से की नज़र से,
मालूम नहीं आज वो किस-किस से लड़े है।
Ruthh Kar Kuchh Aur Bhi Haseen Lagte Ho,
Bas Yehi Soch Kar Tum Ko Khafa Rakha Hai.
रूठ कर कुछ और भी हसीन लगते हो,
बस यही सोच कर तुम को खफा रखा है।
---
Suvichar Shayari
Suvichar Shayari – Hello, guys I'm here with the most recent collection of Hindi two-line positive statuses. I hope you enjoy this Hindi post with a two-line positive status.
majboor ho jaoge to fayda uthaya ho jaega,
majboot ho jaoge to faydemand rhega
मजबूर हो जाओगे तो फायदा उठाया हो जाएगा ,
मजबूत हो जाओगे तो फायदेमंद रहेगा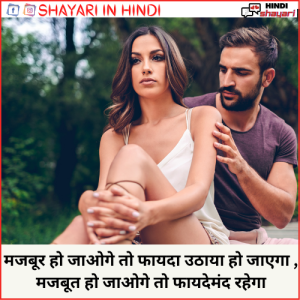 kadmo ko kisi aur ka sath mile na mile,
aapke kadam hi akele chlne me mahir ho
कदमो को किसी और का साथ मिले ना मिले ,
आपके कदम ही अकेले चलने में माहिर हो
---
Heart Touching True Love Shayari
Heart Touching True Love Shayari – Read the most recent Hindi heartfelt poetry, heartfelt pictures, beautiful love poetry, sorrowful collection of broken hearts, and romantic love poetry.
Na jane itnaq pyar kaha se aya
hai tumhare liye ki mera dil bhi
tumhare khatit mujhse ruth jata hai.
ना जाने इतना प्यार कहां से आया है
तुम्हारे लिये कि मेरा दिल भी तुम्हारे
खातिर मुझसे रूठ जाता है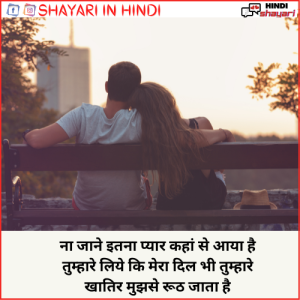 Tu meri zaroorat hai.Tu meri addat hai.
Meri toh bas yehi chahat hai Pukar ke
tera naam bol du,Tu meri Mohabbat hai.
तू मेरी ज़ारुरत है.तू मेरी आदात है मेरि तो
बस येहि चाहत है पुकार के तेरा नाम बोल दू,
तू मेरी मोहब्बत है.