Love Caption For Boys – In this category, we have Two Line Shayari ( ) uploaded. Here you can read the largest collection of two-line short shayaris with significant meaning.
Najron Mein Doston Ki Jo Itna Kharab Hai,
Uska Qasoor Ye Hai Ki Wo Kaamyab Hai.
नजरों में दोस्तों की जो इतना खराब है,
उसका कसूर ये है कि वो कामयाब है।
Sitam To Ye Hai Ke Zalim Sukhan-Sanaas Nahin,
Wo Ek Shakhs Jo Shayar Banaa Gaya Mujhko.
सितम तो ये है कि ज़ालिम सुखन-सनास नहीं,
वो एक शख्स जो शायर बना गया मुझको।
---
New Good Morning Pictures
New Good Morning Pictures – After some time, I'll update the Good Morning Shayari 2 Line Collection once again. Visit the Good Morning Shayari Post's Related Shayari page.
Mushkile aapko khtm krne ke liye nahi
Aapko banane ke liye zindagi me aati h
मुश्किलें आपको खत्म करने के लिए नहीं ,
आपको बनाने के लिए ज़िंदगी में आती है।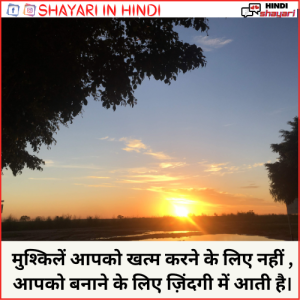 Samasyae behrupiya hoti h
Hoti aashirwad h dikhti takleefe h
समस्याए बहरूपिया होती है ,
होती आशीर्वाद है दिखती तकलीफे है।
---
Bestie In Hindi
Bestie In Hindi – Hindi friendship shayari are a wonderful technique to convey your sentiments for your closest friend.
Aasmaan Se Tod Kar Sitara Diya Hai,
Aalam-e-Tanhai Mein Ek Sharara Diya Hai,
Meri Kismat Bhi Naaz Karti Hai Mujhpe,
Khuda Ne Dost Hi Itna Pyara Diya Hai.
आसमान से तोड़ कर सितारा दिया है,
आलम-ए-तन्हाई में एक शरारा दिया है,
मेरी किस्मत भी नाज़ करती है मुझपे,
खुदा ने दोस्त ही इतना प्यारा दिया है।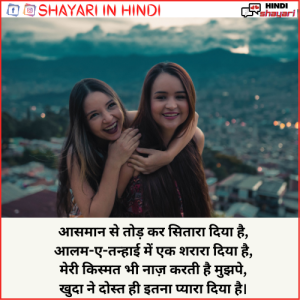 Dosti Mein Dost, Dost Ka Khuda Hota Hai,
Mahsoos Tab Hota Hai Jab Wo Juda Hota Hai.
दोस्ती में दोस्त, दोस्त का ख़ुदा होता है,
महसूस तब होता है जब वो जुदा होता है।