Sukoon Quotes – Aisa Sukhoon Mil Jaye Khatam Ho Jaye Zamana Par Mujhe Hosh Na Aa Paye Teri Khushboo Me.
Bhare Bazaar Se Aksar Main Khali Haath Aaya Hoon,
Kabhi Khwahish Nahi Hoti Kabhi Paise Nahi Hote.
भरे बाजार से अक्सर मैं खाली हाथ आया हूँ,
कभी ख्वाहिश नहीं होती कभी पैसे नहीं होते।
Main Ek Shaam Jo Roshan Deeya Uthha Laya,
Tamaam Shahar Kahin Se Hawa Uthha Laya.
मैं एक शाम जो रोशन दीया उठा लाया,
तमाम शहर कहीं से हवा उठा लाया।
---
Karoge
Karoge – The easiest technique to convey your inner sentiments in only two sentences is through this. These concise Shayari offer heartfelt messages that speak volumes. Read the top Hindi 2-line Sher O Shayari collection from 2023 here.
Ab Kyun Na Zindgi Pe Mohabbat
Ko Vaar Dein, Iss Aashiqi Mein
Jaan Se Jana Bahut Hua.
अब क्यों न ज़िन्दगी पे मुहब्बत को वार दें
इस आशिक़ी में जान से जाना बहुत हुआ।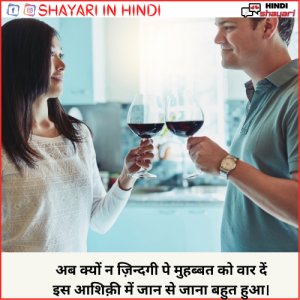 Maa Bap ke faisle galat ni hote
magar faislon wajah se aulad
muskurana bhul jati hai.
माँ बाप के फैसले गलत नहीं होते
मगर फैसलों वजह से औलाद
मुस्कुराना  भूल जाती है। 
---
Chhod Do
Chhod Do – Itne Nayab Tohfe Rozro Nahin Mila Karte, Maine Kaha Mujhe Chhod Do Ya Tod DoVo Bevfa Hans Ke Boli This Facebook nayab shayari is excellent.
Chhod Do Tanha Hi Mujhko Yaaro,
Saath Mere Reh Kar Kya Paaoge,
Agar Ho Gayi Aapko Mohabbat Kabhi,
Meri Tarah Tum Bhi Pachhtaoge.
छोड़ दो तन्हा ही मुझको यारो,
साथ मेरे रहकर क्या पाओगे,
अगर हो गई तुमको मोहब्बत कभी,
मेरी तरह तुम भी पछताओगे।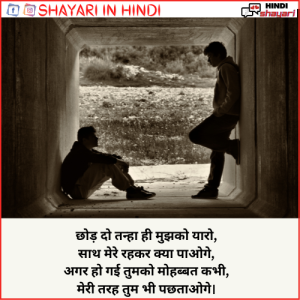 Kaanto Si Chubhti Hai Tanhai,
Angaaron Si Sulagti Hai Tanhai,
Koi Aakar Humein Jara Hansaa De,
Rota Hoon To Rone Lagti Hai Tanhai.
काँटों सी चुभती है तन्हाई,
अंगारों सी सुलगती है तन्हाई,
कोई आ कर हमें जरा हँसा दे,
रोता हूँ तो रोने लगती है तन्हाई।