zindagi mummy papa status – Get the greatest mom-dad quotes, maa papa short sayings, and maa-baap status in Hindi. One-Liner Parents Love Quotes and Sayings that are Inspirational about Father and Mother, Mummy and Papa Status.
Use jarurat nahi kisi bhi pooja aur paath ki,
Jo har din seva karta ho apne maa-baap ki !
उसे जरूरत नहीं किसी भी पूजा और पाठ की,
जो हर दिन सेवा करता हो अपने मां-बाप की !
Na use majbooriyan rok saki,
Na hi use museebatein rok saki,
Aa gayi 'maa' jo baccho ne yaad kiya,
Maa ko to milo ki dooriyan bhi na rok saki !
ना उसे मजबूरियां रोक सकीं,
ना ही उसे मुसीबतें रोक सकीं,
आ गई 'माँ' जो बच्चों ने याद किया,
माँ को तो मीलों की दूरियाँ भी ना रोक सकी !
---
Safar Shayari
Safar Shayari – If you enjoy travelling, you will undoubtedly enjoy Travel Shayari in Hindi, Urdu, and English. Check Out Best Safar Shayari In Hindi With Images. the following post
Apni marji se apne safar ke hum hai,
Rukh hwa ka jidhar ka hai uad ke hum hai..!!
पनी मर्ज़ी से अपने सफ़र के हम हैं,
रुख हवा का जिधर का है उर के हम हैं..!!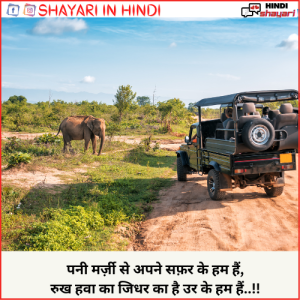 Mana ki jindagi me gum bahut hai,
Kabhi safar par niklo or dekho khushiyan.
माना की ज़िंदगी में गम बहुत है,
कभी सफर पर निकलो और देखो खुशियां।
---
Dua Shayari
Dua Shayari – Our customers may read and transmit Dua Shayari in Hindi from our extensive library. Hindi's Dua Bhari Shayari is a form of poetry used for prayer.
Taqdeer Likhne Wale Ek Ehasaan Likh De,
Meri Mohabbat Ki Takdeer Mein Muskan Likh De,
Na Mile Zindagi Mein Kabhi Bhi Dard Usko,
Chaahe Uski Kismat Mein Meri Jaan Likh De.
तकदीर लिखने वाले एक एहसान लिख दे,
मेरी मोहब्बत की तकदीर में मुस्कान लिख दे,
ना मिले ज़िन्दगी में कभी भी दर्द उसको,
चाहे उसकी किस्मत में मेरी जान लिख दे।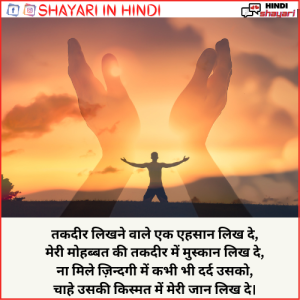 Maanga Karenge Ab Se Duaa Hijr-e-Yaar Ki,
Akhir Ko Dushmani Hai Duaa Ki Asar Ke Saath.
माँगा करेंगे अब से दुआ हिज्र-ए-यार की,
आखिर को दुश्मनी है दुआ की असर के साथ।