Mohabbat Shayari – Here is a well picked selection of Hindi Mohabbat shayari. On this website, you may download HD versions of every Mohabbat shayari. These Mohabbat Shayari photos can be used for WhatsApp status updates as well as Instagram posts.
Teri mohabbat me ek ajab
sa nasha hai tabhi ro sari
duniya tumpe fida hai..
तेरी मोहब्बत में एक अजब सा नशा है,
तभी तो सारी दुनिया तुमपे फ़िदा है.
Teri smile ka bhi kya kehna meri jaan
teri smile dekh kar apni jaan tak luta
dun tumpe.
तेरी स्माइल का भी क्या कहना मेरी जान,तेरी
स्माइल देख कर अपनी जान तक लुटा दूँ तुमपे।
---
king shayari
king shayari – If you have these qualities—fearlessness, assurance, tenacity, intelligence, and attitude—then, yes, you are a king. And all you have to do is set the king attitude status on your Facebook, Instagram, and WhatsApp.
na peshee hogee, na gavaah hoga !!
ab jo bhee hamase ulajhega !!
bas seedha tabaah hoga !!
ना पेशी होगी, न गवाह होगा !!
अब जो भी हमसे उलझेगा !!
बस सीधा तबाह होगा !!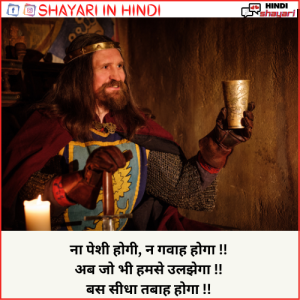 baadashaah hai ham apanee marjee ke !!
haath jodana bhee aata hai aur todana bhee !!
बादशाह है हम अपनी मर्जी के !!
हाथ जोड़ना भी आता है और तोड़ना भी !!
---
Khatarnak Shayari
Khatarnak Shayari – Hello, everyone. There is a sizable collection of the best Khatarnak Attitude Status in Hindi for You in this post.
Mera khatarnak Attitude
bhagwan ka diya tohfa hai
koi mujhse ye chhin ni sakta.
मेरा खतरनाक ऐटिटूड भगवान 
का दिया तोहफा है कोई मुझसे 
ये छिन नहीं सकता।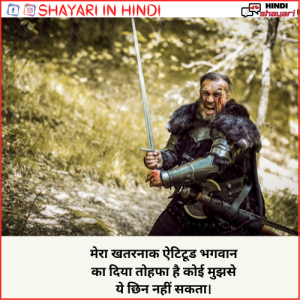 Attitude ke bazar me jeene ka
alag hi maza hai log jalna nahi
chodte aur hum muskurana..
Attitude के बाजार में जीने का 
अलग ही मज़ा है लोग जलना नहीं 
छोड़ते और हम मुस्कुराना।