Alone Shayari In Hindi – Read the most recent shayari about a lonely and depressed lover here. Poetry about Tanhai, Akelapan, and loneliness is now available.
Sahare dhundhne ki adat
nahi humari hum akele
puri mahfil ke barabar hai.
सहारे ढूढ़ने की आदत नहीं
हमारी हम अकेले पूरी महफिल
के बराबर है।
Akela chod hi rhi ho to
pehle iski wajah to bta do.
अकेला छोड़ ही रही हो तो
पहले इसकी वजह तो बता दो।
---
Funny Shayri In Hindi
Funny Shayri In Hindi – The most funny SMS, killer shayari, and shayari for friends, girlfriends, husbands, and wives can all be found here.
Rehta Hai Ibaadat Mein Humein Maut Ka Khatka,
Hum Yaad Khuda Karte Hain Kar Le Na Khuda Yaad.
रहता है इबादत में हमें मौत का खटका,
हम याद ख़ुदा करते हैं कर ले न ख़ुदा याद।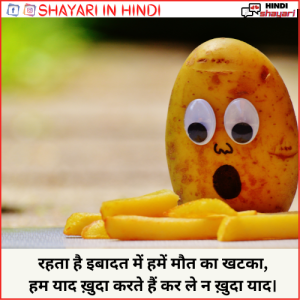 Kaash Humara Bhi Koi Rashq-e-Qamar Hota,
Hum Bhi Najar Milate Humein Bhi Mazaa Aata.
काश हमारा भी कोई रश्के-क़मर होता,
हम भी नजर मिलाते हमें भी मज़ा आता।
---
Shayris
Shayris – Read here for the latest humorous shayari in Hindi, comedy shayari, the funniest SMS, killer shayari, and humorous shayari for a buddy, girlfriend, husband, or wife.
Kis Kis Ka Naam Lein Apni Barbadi Mein,
Bahut Log Aaye The Duayein Dene Shaadi Mein.
किस किस का नाम लें अपनी बरबादी में,
बहुत लोग आये थे दुआएं देने शादी में।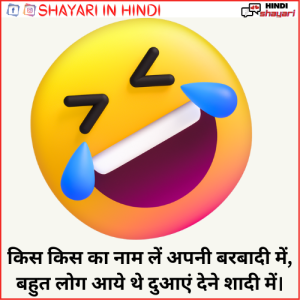 Kuchh Aise Haadse Bhi Hote Hain Zindgi Mein Dost,
Hajaar Ka Note Rakhne Wale Sau Rupaye Mangte Hain.
कुछ ऐसे हादसे भी होते है जिंदगी में दोस्त,
हजार का नोट रखने वाले सौ रुपये मांगते हैं।