Army Shayari In Hindi – Read the best army quotes in Hindi, the best army sayings, army captions on Instagram, and royal fauji status.
Army Shayari in Hindi – आर्मी शायरी इन हिंदी
Kal Raat Badi Shiddhat Se Dushmanon Ki Tabaahi Maangi Thi,
Magar Baad Mein Pata Chala,,
Vo Taara Eyar Fors Ke Ladaaku Vimaan Ki Light Thi.
कल रात बड़ी शिद्धत से दुश्मनों की तबाही मांगी थी,
मगर बाद में पता चला,,
वो तारा एयर फ़ोर्स के लड़ाकू विमान की लाइट थी।
Sher Sa Jigar Aur Gajab Ke Shauk Rakhata Hoon,
Apane Desh Ke Khaatir Hatheli Par Jaan Rakhata Hoon.
शेर सा जिगर और गजब के शौक रखता हूँ,
अपने देश के खातिर हथेली पर जान रखता हूँ।
---
Gam Bhari Shayari
Gam Bhari Shayari – Dard Bhari Shayari experiences a great deal of suffering. The most recent collection of Dard Shayari in Hindi with English typeface is shown below.
Mere Dard Ka Jara Sa Hissa Lekar To Dekho,
Sadiyon Tak Yaad Karte Rahoge Tum Bhi.
मेरे दर्द का जरा सा हिस्सा लेकर तो देखो,
सदियों तक याद करते रहोगे तुम भी।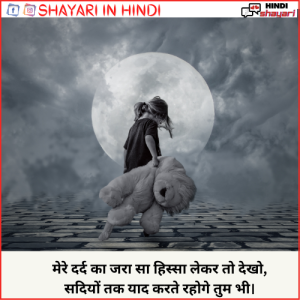 Shukr Karo Ke Hum Dard Sehte Hain, Likhte Nahin,
Verna Kaagzon Par Lafzon Ke Janaaze UthhTe.
शुक्र करो कि हम दर्द सहते हैं, लिखते नहीं,
वरना कागजों पर लफ्जों के जनाज़े उठते।
---
Bharosa Shayari
Bharosa Shayari – Whether you're looking for Bharosa Shayari in Hindi, Bharosa quotes on gorgeous photographs, or the Bharosa Shayari WhatsApp status, this website has all you need.
dil todna hamari adat nahi,
dil ham kisi ka dukhate nahi,
bharosa rakhna meri wafao
par dil mein basa kar ham
kisi ko bhulate nahi.
दिल तोड़ना हमारी आदत नहीं,
दिल हम किसी का दुखाते नहीं,
भरोसा रखना मेरी वफ़ाओ पर
दिल में बसा कर हम किसी 
को भुलाते नहीं.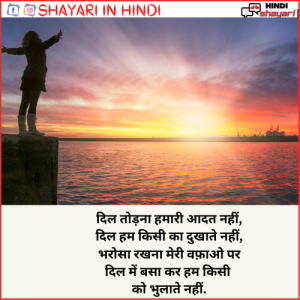 Logon par bharosa karne ka
itna shunk na rakho ki khud
bharosa uth jaye.
लोगों पर भरोसा करने का इतना 
शौंक न रखो की खुद से भरोसा 
उठ जाये।