Bewafai Shayari – For Facebook and WhatsApp, Bewafa Shayari is also accessible with images and a two-line Bewafa status in Hindi.
Tera Khayal Dil Se Mitaya Nahi Abhi,
BeWafa Maine Tujhko Bhulaya Nahi Abhi.
तेरा ख्याल दिल से मिटाया नहीं अभी,
बेवफा मैंने तुझको भुलाया नहीं अभी।
Seekh Kar Gaya Hai Wo Mohabbat Mujhse,
Jis Se Bhi Karega Be-Misaal Karega.
सीख कर गया है वो मोहब्बत मुझसे,
जिस से भी करेगा बेमिसाल करेगा।
---
Teri Galiyon Se
Teri Galiyon Se – On Facebook and Whatsapp, we offer a lovely selection of the most recent romantic shayari, romantic SMS, and romantic statuses.
Haqikat Na Sahi Tum Khwab Bankar Mila Karo,
Bhatke Musafir Ko Chaandani Raat Bankar Mila Karo.
हक़ीक़त ना सही तुम ख़्वाब बन कर मिला करो,
भटके मुसाफिर को चांदनी रात बनकर मिला करो।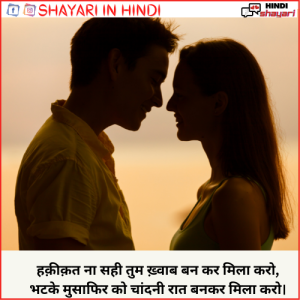 Mohabbat Panap Rahi Hai Dil Mein Tere Liye,
Jubaan Se Na Sahi Tum Nigaahon Se Samajh Lo.
मोहब्बत पनप रही है दिल में तेरे लिए,
जुबाँ से न सही तुम निगाहों से समझ लो।
---
Pehli Mohabbat Lyrics
Pehli Mohabbat Lyrics – Here is a selection of Hindi first love Shayari for your lady. These are the finest ways to show your girlfriend how much you care and to brighten his day.
Mujhe kabhi dhoka nahi dena
Aalawa kisi aur ka na hona mar
jaungi me apke bager apne mujhe
jeena sikhaya hai.
मुझे कभी धोखा नहीं देना, मेरे आलावा किसी
और का ना होना मर जाऊँगी मै आपके बगैर
आपने मुझे जीना सिखाया है.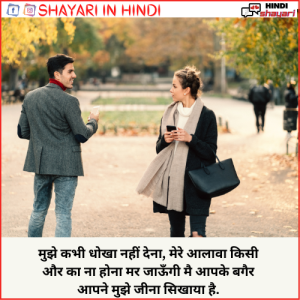 Zindagi me agar aap kisi se pyar
karo toh use khona mat kyuki aggar
saccha pyar ek bar kho jaye to fir
dubara nahi milta.
ज़िन्दगी में अगर आप किसी से प्यार
करो तोह उसे खोना मत क्यों की अगर
सच्चा प्यार एक बार खो जाये तो फिर
दुबारा नहीं मिलता।