Dard Shayari – Dard Bhari Shayari experiences a great deal of suffering. The most recent collection of Dard Shayari in Hindi with English typeface is shown below.
Mere Dard Ka Jara Sa Hissa Lekar To Dekho,
Sadiyon Tak Yaad Karte Rahoge Tum Bhi.
मेरे दर्द का जरा सा हिस्सा लेकर तो देखो,
सदियों तक याद करते रहोगे तुम भी।
Dil Se Mahsoos Kar Sakte Hain Uss Dard Ko,
Jo Teri Kalam Ne Ek Ek Karke Tarasha Hai.
दिल से महसूस कर सकते हैं उस दर्द को,
जो तेरी कलम ने एक-एक करके तराशा है।
---
Broken Heart Quotes In Hindi
Broken Heart Quotes In Hindi – Hello, friends Have you ever had a heartbreak? Are you depressed? Simply go through our special selection of broken heart shayari to relax.
Aisa Nahi Hai Ki Ab Teri Justjoo Nahi Rahi,
Bas Toot Kar Bikharne Ki Aarzoo Nahi Rahi.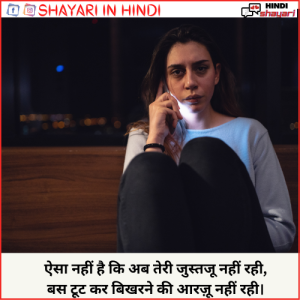 Dil Ki Kya Bisaat Thi Nigaah-e-Jamaal Mein,
Ek Aayina Tha Toot Gaya Dekh-Bhaal Mein.
दिल की क्या बिसात थी निगाह-ए-जमाल में,
इक आइना था टूट गया देख-भाल में।
---
Bewafa Status
Bewafa Status – Additionally, you may use these Bewafa Shayari photos as WhatsApp status updates and Instagram posts. Now go read, and have fun.
Tera Khayal Dil Se Mitaya Nahi Abhi,
BeWafa Maine Tujhko Bhulaya Nahi Abhi.
तेरा ख्याल दिल से मिटाया नहीं अभी,
बेवफा मैंने तुझको भुलाया नहीं अभी।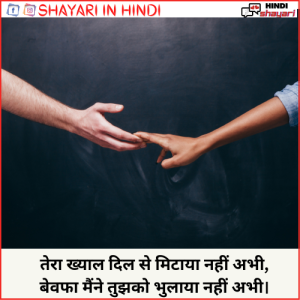 Tu Ne Hi Laga Diya ilzaam-e-Bewafai,
Adalat Bhi Teri Thi Gawaah Bhi Tu Hi Thi.
तूने ही लगा दिया इलज़ाम-ए-बेवफाई,
अदालत भी तेरी थी गवाह भी तू ही थी।