Sad Life Status – Life Shayari is about both positive and negative events. You may discover here the most recent and finest life shayari in Hindi, as well as sad zindagi and greatest life shayari with images.
Ajeeb Tarah Se Gujar Gayi Meri Bhi Zindagi,
Socha Kuchh, Kia Kuchh, Hua Kuchh, Mila Kuchh.
अजीब तरह से गुजर गयी मेरी भी ज़िन्दगी,
सोचा कुछ, किया कुछ, हुआ कुछ, मिला कुछ।
Jeene Ka Hausla Kabhi Marne Ki Aarzoo,
Din Yoon Hi Dhoop-Chhaaon Mein Apne Bhi Kat Gaye.
जीने का हौसला कभी मरने की आरज़ू,
दिन यूँ ही धूप-छाँव में अपने भी कट गए।
---
Maa Shayari
Maa Shayari – In our world, there is no alternative for a mother, who is regarded as the second manifestation of God.
Sar Par Jo Haath Fere To Himmat Mil Jaye,
Maa Ek Baar Muskura De To Jannat Mil Jaye.
सर पर जो हाथ फेरे तो हिम्मत मिल जाये,
माँ एक बार मुस्कुरा दे तो जन्नत मिल जाये।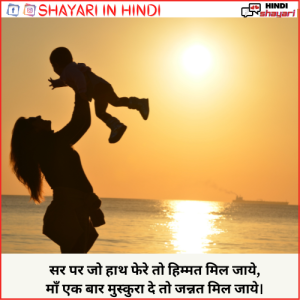 Chalti Firti Aankhon Se Azaan Dehi Hai,
Maine Jannat To Nahi Dekhi Hai Maa Dekhi Hai.
चलती फिरती आँखों से अज़ाँ देखी है,
मैंने जन्नत तो नहीं देखी है माँ देखी है।
---
Zindgi Shayari
Zindgi Shayari – The best hindi zindagi shayari always helps us comprehend how to set up a respectable existence.
Har khwab aur har khwahish
puri nahi hoti har kisi ki zindagi
me aap zaruri nahi hote.
हर ख्वाब और हर ख्वाहिशें पूरी नहीं होती,
हर किसी के ज़िंदगी में आप जरुरी नहीं होते.
ham sab ki jindagi ka bus ek
hi fasana hai mitti se Bane
hain aur mitti me hi mil jana h.
हम सबकी ज़िंदगी का बस एक ही
फसाना है,मिट्टी से बने है और मिट्टी
में ही मिल जाना है.