Hindi Shayari – For the benefit of those who enjoy shayari, we have included every Shero Shayari in both Hindi and English script. You may post these Hindi Shayaris on social media or make them as your WhatsApp and Facebook status.
Samjhne Hi Nahi Deti Siyasat Hum Ko Sachchai,
Kabhi Chehra Nahi Milta Kabhi Darpan Nahi Milta.
समझने ही नहीं देती सियासत हम को सच्चाई,
कभी चेहरा नहीं मिलता कभी दर्पन नहीं मिलता।
Daulat Ki Chaah Thi Toh Kamane Nikal Gaye,
Daulat Mili To Hath Se Rishte Nikal Gaye,
Bachchon Ke Sath Rehne Ki Fursat Na Mil Saki,
Fursat Mili To Bachche Hi Ghar Nikal Gaye.
दौलत की चाह थी तो कमाने निकल गए,
दौलत मिली तो हाथ से रिश्ते निकल गए,
बच्चों के साथ रहने की फुर्सत न मिल सकी,
फुर्सत मिली तो बच्चे ही घर निकल गए।
---
Khamoshi Shayari
Khamoshi Shayari – Here is a compiled list of Hindi translations of Khamoshi shayari. On this page, you may download HD versions of every Khamoshi shayari.
Tadap Rahe Hai Ham
tumse Ek Alfaaz Ke Liye,
tod Do Khamoshi Hame
zinda Rakhne Ke Liye.
तड़प रहे है हम तुमसे,
एक अल्फाज के लिए,
तोड़ दो खामोशी हमें,
जिन्दा रखने के लिए।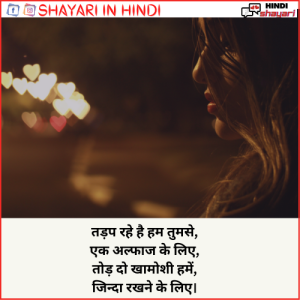 Chubhata to bahut kuchh hain
Mujhe bhee teer kee tarah,
Lekin khaamosh rahata hoon
Teree tasveer kee tarah.
चुभता तो बहुत कुछ हैं
मुझे भी तीर की तरह,
लेकिन खामोश रहता हूँ
तेरी तस्वीर की तरह.
---
Propose Shayari
Propose Shayari – Welcome to the Propose Shayari In Hindi blogsoch page. The most romantic and unforgettable moment in a relationship is when someone proposes.
Dil hatheli par rakhkar
Izhaar-ae-Mohabbat
Kar raha hu
Agar accha lage humara dil
To kubool kar lena..
दिल हथेली पर रखकर
इज़हार-ऐ-मोहब्बत
कर रहा हु
अगर अच्छा लगे हमारा दिल
तो क़ुबूल कर लेना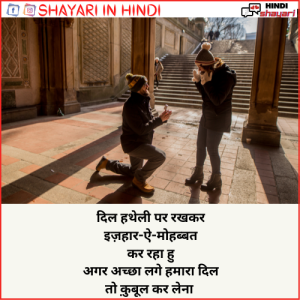 Agar jubaan se shabd na nikle
To meri aankho ko padh lena
Dil agar kuch baya na kar paye
To khud hi haal-ae-dil samajh lena.
अगर जुबान से शब्द ना निकले
तो मेरी आँखों को पढ़ लेना
दिल अगर कुछ बया ना कर पाए
तो खुद ही हाल-ऐ-दिल समझ लेना