Love Dosti Shayari – Friendship is a term used to describe a group of individuals who have strong sentiments for one another that go beyond simple romantic or sexual attraction.
Love Dosti Shayari – लव दोस्ती शायरी
Mere Lafzon Ko Itne Gaur Se Na Parha Karo Dosto,
Kuchh Yaad Rah Gaya Toh Mujhe Bhool Nahi Paaoge.
मेरे लफ़्ज़ों को इतने गौर से ना पढ़ा करो दोस्तों,
कुछ याद रह गया तो मुझे भूल नहीं पाओगे।
Dosti Mein Dost, Dost Ka Khuda Hota Hai,
Mahsoos Tab Hota Hai Jab Wo Juda Hota Hai.
दोस्ती में दोस्त, दोस्त का ख़ुदा होता है,
महसूस तब होता है जब वो जुदा होता है।
---
Rishte Matlabi Shayari
Rishte Matlabi Shayari – Sometimes, two sentences are all we need to express our thoughts or feelings. This is the spot to search if you're seeking for two-line Punjabi quotations.
Jin dosto ne mujh se kinara kar liya,
Maine bhi unke naam ka janaza pad liya.
जिन दोस्तों ने मुझ से किनारा कर लिया,
मैंने भी उनके नाम का जनाज़ा पढ़ लिया ।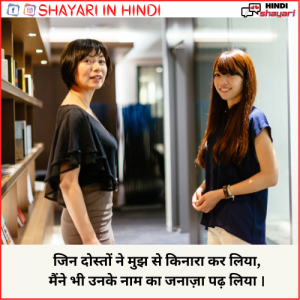 Laanat hai us insan ki dosti par,
jo majbor kare ek ladki ko chhote kapde pehanne par.
लानत है उस इंसान की दोस्ती पर,
जो मजबूर करे एक लड़की को छोटे कपडे पहनने पर।
---
Best Friend Shayari In Hindi
Best Friend Shayari In Hindi – Use our best selection of friendship shayari to convey your feelings to a genuine buddy.
Aapki hamari dosti to suro ka saaj hai,
aap jaise dost par hame hamesha naaj hai,
ab chahe kuch bhi ho jaaye zindagi mein,
dosti to vaise hi rahegi jaise aaj hai.
आपकी हमारी दोस्ती तो सुरों का साज है,
आप जैसे दोस्त पर हमें हमेशा नाज़ है,
अब चाहे कुछ भी हो जाये जिंदगी में,
दोस्ती तो वैसे ही रहेगी जैसे आज है।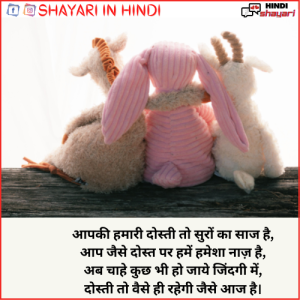 Pyar se kaho to ye aasman mang lo,
ruth kar kaho to hamari muskan mang lo,
tamanna yahi hai ki ye dosti mat todna,
fir chahe haskar hamari jaan maang lo.
प्यार से कहो तो ये आसमान मांग लो,
रूठ कर कहो तो हमारी मुस्कान मांग लो,
तमन्ना यही है कि ये दोस्ती मत तोड़ना,
फिर चाहें हँसकर हमारी जान मांग लो।