Punjabi Loving Shayari – Punjabi love status for Whatsapp and Facebook, punjabi love shayari, romantic status in punjabi, and punjabi love quotes are all available.
Kise Da pyar Paun nu waqt lagda
Kise nu Apna Bnaun nu waqt lagda
Jado main Puchya Rabb Kolo Ta Rabb Kehnda
Kise Anmol Cheej nu Paun nu Waqt lagda
ਕਿਸੇ ਦਾ ਪਿਆਰ ਪਾਉਣ ਨੂੰ ਵਕਤ ਲੱਗਦਾ,
ਕਿਸੇ ਨੂੰ ਅਪਣਾ ਬਣਾਉਣ ਨੂੰ ਵਕਤ ਲਗਦਾ,
ਜਦ ਮੈਂ ਰੱਬ ਕੋਲੋਂ ਪੁੱਛਿਆ,ਤਾਂ ਰੱਬ ਕਹਿੰਦਾ,
ਕਿਸੇ ਅਨਮੋਲ ਚੀਜ ਪਾਉਣ ਨੂੰ ਵਕਤ ਲਗਦਾ"
Tu Hasdi Sohni Lagdi ae
Kujh labhna na Dil Kho k ni
Yaari Jihde naal laayi Sikhr Laa k Dikhawange
Chaahe pai jaave oh jagg to Luko k ni
ਤੂੰ ਹਸਦੀ ਸੋਹਣੀ ਲੱਗਦੀ ਏ ,
ਕੁੱਝ ਲੱਭਣਾ ਨਾ ਦਿਲ ਖੋ ਕੇ ਨੀ ,
ਯਾਰੀ ਜੀਦੇ ਨਾਲ ਲਾਈ ਸਿਖਰ ਲਾ ਕੇ ਦਿਖਾਵਾਂਗੇ ,
ਚਾਹੇ ਪੈ ਜਾਵੇ ਓਹ ਜੱਗ ਤੋ ਲੁਕੋ ਕੇ ਨੀ …….
---
Shayri
Shayri – You would like reading the heartfelt Hindi Shayari found here. For the benefit of those who enjoy shayari, we have included every Shero Shayari in both Hindi and English script.
Waqt Noor Ko Benoor Kar Deta Hai,
Chhote se Zakhm Ko Nasoor Kar Deta Hai,
Kaun Chahta Hai Apno Se Dur Rehna,
Par Waqt Sabko Majboor Kar Deta Hai.
वक़्त नूर को बेनूर कर देता है,
छोटे से जख्म को नासूर कर देता है,
कौन चाहता है अपनों से दूर रहना,
पर वक़्त सबको मजबूर कर देता है।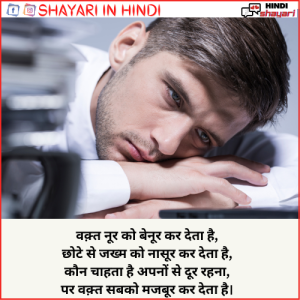 Na Jee Bhar Ke Dekha Na Kuchh Baat Ki,
Badi Aarzoo Thi Mulaqat Ki,
न जी भर के देखा न कुछ बात की,
बड़ी आरज़ू थी मुलाक़ात की।
---
Shayari Hindi On Life
Shayari Hindi On Life – Life Shayari is about both positive and negative events. The finest life shayari with images, sad zindagi shayari, life quotes, and zindagi status in hindi can all be found here.
Bade Hi Ajeeb Hain Ye Zindagi Ke Raaste,
Anjane Mod Par Kuchh Log Apne Ban Jate Hain,
Milne Ki Khushi Dein Ya Na Dein,
Magar Bichadne Ka Gam Zaroor De Jate Hain.
बड़े ही अजीब हैं ये ज़िन्दगी के रास्ते,
अनजाने मोड़ पर कुछ लोग अपने बन जाते हैं,
मिलने की खुशी दें या न दें,
मगर बिछड़ने का गम ज़रूर दे जाते हैं।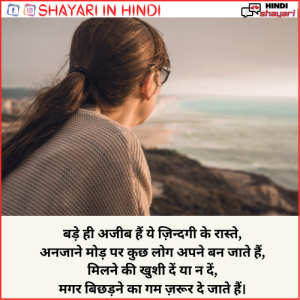 Jeene Ka Hausla Kabhi Marne Ki Aarzoo,
Din Yoon Hi Dhoop-Chhaaon Mein Apne Bhi Kat Gaye.
जीने का हौसला कभी मरने की आरज़ू,
दिन यूँ ही धूप-छाँव में अपने भी कट गए।