The Best Shayari – You would like reading the heartfelt Hindi Shayari found here. For the benefit of those who enjoy shayari, we have included every Shero Shayari in both Hindi and English script.
Samjhne Hi Nahi Deti Siyasat Hum Ko Sachchai,
Kabhi Chehra Nahi Milta Kabhi Darpan Nahi Milta.
समझने ही नहीं देती सियासत हम को सच्चाई,
कभी चेहरा नहीं मिलता कभी दर्पन नहीं मिलता।
Waqt Noor Ko Benoor Kar Deta Hai,
Chhote se Zakhm Ko Nasoor Kar Deta Hai,
Kaun Chahta Hai Apno Se Dur Rehna,
Par Waqt Sabko Majboor Kar Deta Hai.
वक़्त नूर को बेनूर कर देता है,
छोटे से जख्म को नासूर कर देता है,
कौन चाहता है अपनों से दूर रहना,
पर वक़्त सबको मजबूर कर देता है।
---
Sad Hindi Shayri
Sad Hindi Shayri – Because of things like love, life, or friends, we feel terribly depressed. Our unhappy feelings are trying to escape from our hearts.
Mujhe Kismat Se Shiqwa To Nahi Lekin Ai Khuda,
Wo Zindagi Mein Kyun Aaya Jo Kismat Mein Nahi Tha.
मुझे किस्मत से शिकवा तो नहीं लेकिन ऐ खुदा,
वो ज़िन्दगी में क्यों आया जो किस्मत में नहीं था।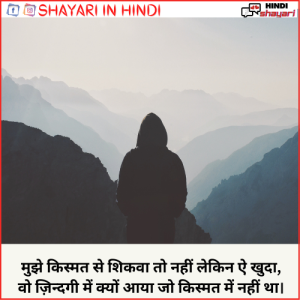 Mohabbat Haar Ke Jeena Bahut Mushkil Hota Hai,
Usey Bas Itna Bata Dena Bharam Toda Nahi Karte.
मोहब्बत हार के जीना बहुत मुश्किल होता है,
उसे बस इतना बता देना भरम तोड़ा नहीं करते।
---
Shayri In Punjabi
Shayri In Punjabi – You may discover Punjabi status, sad shayari for love, sad punjabi status, and whatsapp sad punjabi status here.
Oh Mere Adhure Gitaan Nu,
Hae Ni Pahichana Dendi Tu,
Ho Main Masiha Tere Piḍa Da Ni,
Main Asaka Tere Piḍa Da Ni,
Main Gumnaama Ha Tere Piḍa Da Ni,
Mainu Nama Dendi Tu.
ਓ ਮੇਰੇ ਅਧੂਰੇ ਗੀਤਾਂ ਨੂੰ
ਹਾਏ ਨੀ ਪਹਿਚਾਣ ਦੇਂਦੀ ਤੂੰ
ਹੋ ਮੈ ਮਸੀਹਾ ਤੇਰੇ ਪਿੰਡ ਦਾ ਨੀ
ਮੈ ਆਸ਼ਕ ਤੇਰੇ ਪਿੰਡ ਦਾ ਨੀ
ਮੈ ਗੁਮਨਾਮ ਹਾ ਤੇਰੇ ਪਿੰਡ ਦਾ ਨੀ
ਮੇਨੂ ਨਾਮ ਦੇਂਦੀ ਤੂੰ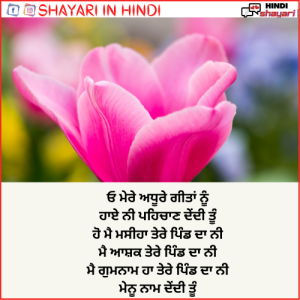 Menu Mili Judai Ta Main Ki Kara,
Na Menu Mahobaat Ras Ayi Ta Main Ki Kara,
Na Menu Umeed Hun Jeun Di,
Je Maut Bhi Na Aayi Ta Main Ki Kara.